Tropical Cyclone SEVEN 07W

TD
Issued at 15:40 UTC, 25 July 2019
<Analysis at 15 UTC, 25 July>
Scale
–
Intensity
–
TD
Center position
N28°05′ (28.1°)
E137°30′ (137.5°)
Direction and speed of movement
N 15 km/h (8 kt)
Central pressure
1006 hPa
Maximum wind speed near center
15 m/s (30 kt)
Maximum wind gust speed
23 m/s (45 kt)
<Forecast for 03 UTC, 26 July>
Intensity
–
TD
Center position of probability circle
N30°10′ (30.2°)
E137°00′ (137.0°)
Direction and speed of movement
N 20 km/h (11 kt)
Central pressure
1004 hPa
Maximum wind speed near center
15 m/s (30 kt)
Maximum wind gust speed
23 m/s (45 kt)
Radius of probability circle
80 km (45 NM)
<Forecast for 15 UTC, 26 July>
Intensity
–
Center position of probability circle
N32°20′ (32.3°)
E135°55′ (135.9°)
Direction and speed of movement
NNW 20 km/h (12 kt)
Central pressure
1002 hPa
Maximum wind speed near center
18 m/s (35 kt)
Maximum wind gust speed
25 m/s (50 kt)
Radius of probability circle
110 km (60 NM)
JOINT TYPHOON WARNING CENTER
Tropical Storm 07W (Seven) Warning #03
Issued at 25/1500Z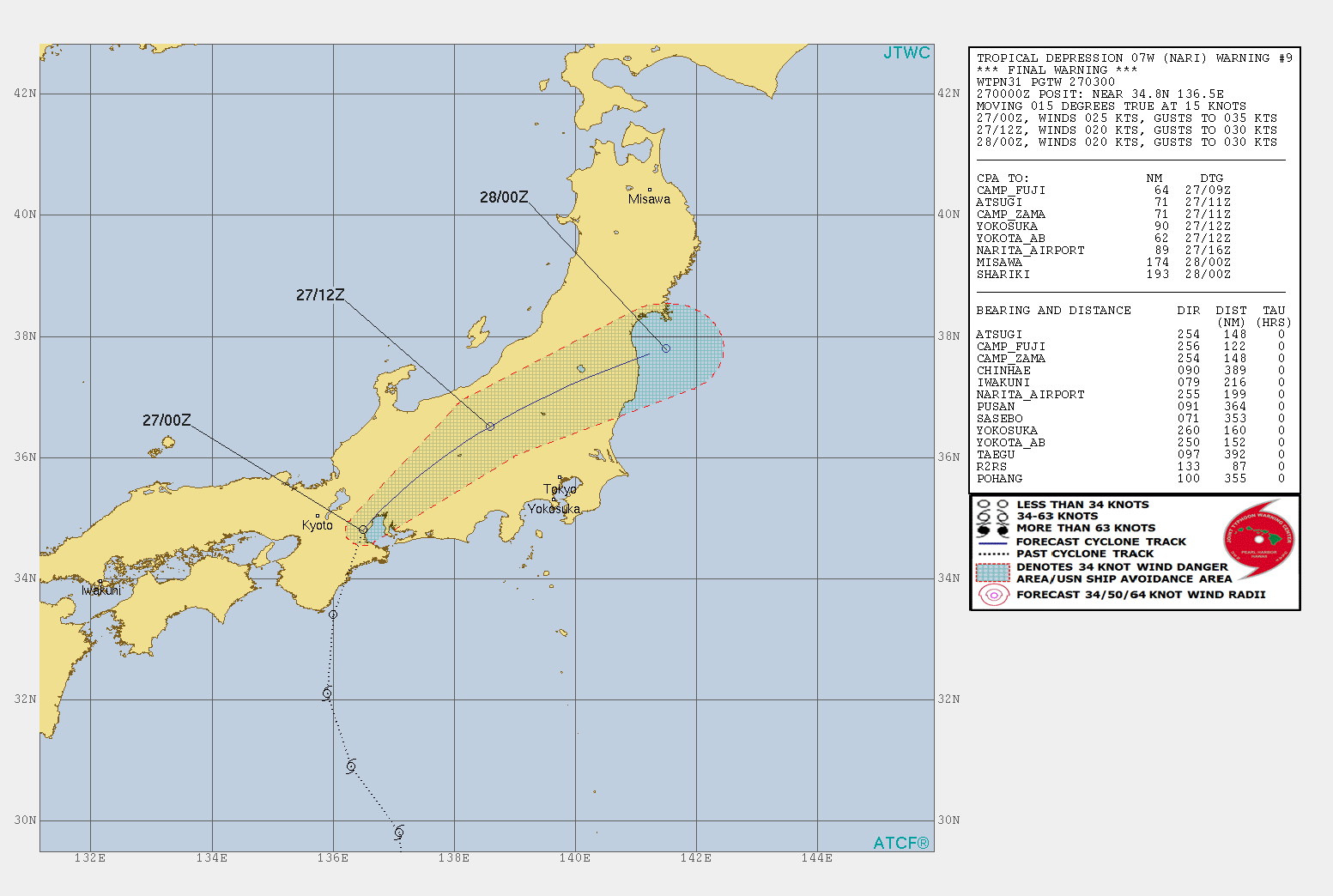 Google Earth Overlay
WTPN31 PGTW 251500
MSGID/GENADMIN/JOINT TYPHOON WRNCEN PEARL HARBOR HI//
SUBJ/TROPICAL STORM 07W (SEVEN) WARNING NR 003//
RMKS/
1. TROPICAL STORM 07W (SEVEN) WARNING NR 003
UPGRADED FROM TROPICAL DEPRESSION 07W
01 ACTIVE TROPICAL CYCLONE IN NORTHWESTPAC
MAX SUSTAINED WINDS BASED ON ONE-MINUTE AVERAGE
WIND RADII VALID OVER OPEN WATER ONLY
—
WARNING POSITION:
251200Z — NEAR 27.5N 137.4E
MOVEMENT PAST SIX HOURS – 355 DEGREES AT 10 KTS
POSITION ACCURATE TO WITHIN 040 NM
POSITION BASED ON CENTER LOCATED BY SATELLITE
PRESENT WIND DISTRIBUTION:
MAX SUSTAINED WINDS – 035 KT, GUSTS 045 KT
WIND RADII VALID OVER OPEN WATER ONLY
RADIUS OF 034 KT WINDS – 125 NM NORTHEAST QUADRANT
110 NM SOUTHEAST QUADRANT
000 NM SOUTHWEST QUADRANT
065 NM NORTHWEST QUADRANT
REPEAT POSIT: 27.5N 137.4E
—
FORECASTS:
12 HRS, VALID AT:
260000Z — 29.4N 136.8E
MAX SUSTAINED WINDS – 035 KT, GUSTS 045 KT
WIND RADII VALID OVER OPEN WATER ONLY
RADIUS OF 034 KT WINDS – 120 NM NORTHEAST QUADRANT
100 NM SOUTHEAST QUADRANT
020 NM SOUTHWEST QUADRANT
060 NM NORTHWEST QUADRANT
VECTOR TO 24 HR POSIT: 345 DEG/ 10 KTS
—
24 HRS, VALID AT:
261200Z — 31.3N 136.2E
MAX SUSTAINED WINDS – 035 KT, GUSTS 045 KT
WIND RADII VALID OVER OPEN WATER ONLY
RADIUS OF 034 KT WINDS – 120 NM NORTHEAST QUADRANT
100 NM SOUTHEAST QUADRANT
020 NM SOUTHWEST QUADRANT
060 NM NORTHWEST QUADRANT
VECTOR TO 36 HR POSIT: 360 DEG/ 10 KTS
—
36 HRS, VALID AT:
270000Z — 33.3N 136.1E
MAX SUSTAINED WINDS – 030 KT, GUSTS 040 KT
WIND RADII VALID OVER OPEN WATER ONLY
VECTOR TO 48 HR POSIT: 035 DEG/ 09 KTS
—
EXTENDED OUTLOOK:
48 HRS, VALID AT:
271200Z — 34.8N 137.5E
MAX SUSTAINED WINDS – 025 KT, GUSTS 035 KT
WIND RADII VALID OVER OPEN WATER ONLY
DISSIPATING AS A SIGNIFICANT TROPICAL CYCLONE OVER LAND
VECTOR TO 72 HR POSIT: 065 DEG/ 10 KTS
—
72 HRS, VALID AT:
281200Z — 36.3N 142.1E
MAX SUSTAINED WINDS – 020 KT, GUSTS 030 KT
WIND RADII VALID OVER OPEN WATER ONLY
DISSIPATED AS A SIGNIFICANT TROPICAL CYCLONE OVER WATER
—
REMARKS:
251500Z POSITION NEAR 28.0N 137.3E.
25JUL19. TROPICAL STORM 07W (SEVEN), LOCATED APPROXIMATELY 483 NM
SOUTH-SOUTHWEST OF YOKOSUKA, JAPAN, HAS TRACKED NORTHWARD AT 10
KNOTS OVER THE PAST SIX HOURS. MAXIMUM SIGNIFICANT WAVE HEIGHT AT
251200Z IS 12 FEET. NEXT WARNINGS AT 252100Z, 260300Z, 260900Z AND
261500Z.//
NNNN

TROPICAL STORM RISK
University College London, UK
NW Pacific: Storm Alert issued at 25 Jul, 2019 12:00 GMT
Tropical Storm SEVEN is currently located near 27.5 N 137.4 E with maximum 1-min sustained winds of 35kts (40 mph). SEVEN is forecast to affect land to the following likelihood(s) at the given lead time(s):
Green Alert Country(s) or Province(s)
    Japan
        probability for TS is 45% in about 36 hours
Green Alert City(s) and Town(s)
    Shiono-misaki (33.5 N, 135.8 E)
        probability for TS is 45% in about 36 hours
    Nagoya (35.2 N, 136.9 E)
        probability for TS is 35% in about 36 hours
    Osaka (34.6 N, 135.5 E)
        probability for TS is 35% in about 48 hours
Note that
Green Alert (Low) is TS to between 31% and 50% probability.
TS means Tropical Storm strength winds of at least 39 mph, 63 km/h or 34 knots 1-min sustained.
For graphical forecast information and further details please visit http://www.tropicalstormrisk.com/
Current probability of tropical storm winds
Other
NONE
MARITIME/SHIPPING
WWJP25 RJTD 251200
WARNING AND SUMMARY 251200.
WARNING VALID 261200.
WARNING IS UPDATED EVERY 6 HOURS.
GALE WARNING.
TROPICAL DEPRESSION 1006 HPA
AT 27.4N 137.6E SEA SOUTH OF JAPAN MOVING NORTH SLOWLY.
POSITION FAIR.
MAX WINDS 30 KNOTS NEAR CENTER.
EXPECTED MAX WINDS 35 KNOTS NEAR CENTER FOR NEXT 24 HOURS.
FORECAST POSITION FOR 260000UTC AT 29.4N 137.3E WITH 45 MILES RADIUS
OF 70 PERCENT PROBABILITY CIRCLE.
FORECAST POSITION FOR 261200UTC AT 31.6N 136.1E WITH 60 MILES RADIUS
OF 70 PERCENT PROBABILITY CIRCLE.
WARNING.
DENSE FOG OBSERVED LOCALLY OVER SEA OF OKHOTSK SEA OF JAPAN BOHAI
YELLOW SEA EAST CHINA SEA.
WARNING.
DENSE FOG OBSERVED LOCALLY OVER WATERS BOUNDED BY 35N 140E 42N 141E
47N 152E 55N 162E 60N 180E 36N 180E 32N 175E 31N 160E 35N 140E.
SUMMARY.
LOW 1008 HPA AT 47N 154E EAST 10 KT.
HIGH 1016 HPA AT 54N 148E SE 10 KT.
HIGH 1024 HPA AT 36N 172E ALMOST STATIONARY.
REMARKS.
JMA WILL DISCONTINUE ITS PROVISION OF WWJP25 AND WWJP26
BY THE YEAR 2020 IN FAVOR OF WWJP27 AND WWJP28,
WHICH ARE IMPROVED VERSIONS OF THE TWO COMMUNICATIONS,
RESPECTIVELY.
JAPAN METEOROLOGICAL AGENCY.=
===========================================================================================================
Do not use any information on this site for life or death decisions. All information is intended as supplementary to official sources. Kindly refer to your country's official weather agency/government website for local warnings, advisories and bulletins.